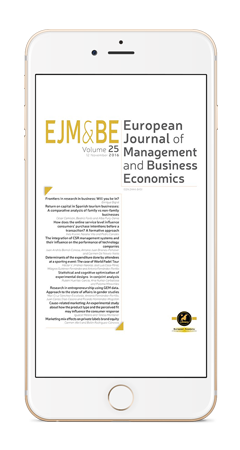 European Journal of Management and Business Economics
European Journal of Management and Business Economics, EJM & BE, is interested in the publication and diffusion of articles of rigorous theoretical, methodological or empirical research associated with the areas of strategy, finance, management, marketing, organization, human resources, operations, corporate governance, and tourism. The Journal attempts to attract original knowledge based on academic rigor and of relevance for academics, researchers, professionals, and/or public decision-makers.
The electronic version of EJM & BE is Open Access and it will use the Creative Commons license. The author/s will transfer the copyright to the Society and will select the use of CC BY 4.0 License (Creative Commons Attribution 4.0 International License, https://creativecommons.org/licenses/by/4.0/), which permit the article to be read, printed and downloaded, as well as distributed it in Open Access repositories.